About Us
Esteva Clinic – licensed clinic of aesthetic medicine and cosmetology
In our arsenal there are effective technologies, both instrumental and injection techniques, which give a pronounced result from the first procedure.
We implement a comprehensive and personalized approach to each patient.
We value your time and offer only proven and effective methods, of which we ourselves are confident.
Esteva Clinic is open 7 days a week from 10-00 to 21-00.
In Esteva Clinic you can be 100% sure for your safety. We use sterile or disposable tools only.
Our special value is our specialists with more than 5 years of experience in cosmetology, annually undergoing continuing education in Ukraine and abroad.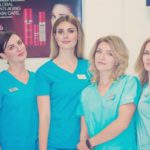 More about our specialists