Cosmetologist consultation

Cosmetologist in Kyiv
Nowadays attractiveness has become the key to success. Looking beautiful and young is a trend that is not going to fade away. At the same time, the raging stream of information offers us a huge number of solutions to improve our appearance.
So what are the most effective methods? Injection cosmetology? Hardware cosmetology? Or maybe you can do with care procedures? Alas, without knowledge and experience, it is quite difficult to figure it out.
In addition, the individuality of each of us also has a direct impact on which methods of cosmetology should be used. To answer such complex questions, there are cosmetologists – our guides to the world of beauty.
Below are some of the conditions that can be resolved with the help of a professional beautician:
✅ Static wrinkles: These wrinkles are always visible and do not change in appearance from facial movements.
✅ Dynamic wrinkles: These are expression lines that deepen with movements or different facial expressions.
✅ Pigmentation: Freckles, sun spots or other darkened areas of the skin are mainly caused by sun exposure.
✅ Scars: As a result of acne or trauma to the skin, scars may roll off (waviness in the skin), pitted, discolored, or have raised edges.
✅ Vascular lesions: blood vessels visible on the surface of the skin, like spider veins, or even persistent facial flushing.
✅ Loss of skin tone: weakening of the supporting structures of the skin (collagen and elastin fibers), resulting in a loss of skin firmness
✅ Dull skin: Skin that has lost its radiance due to the accumulation of dead skin cells and clogged pores.
✅ Sagging of certain areas of the skin: leading to a chronically tired look and even the formation of flews
✅ Bags and dark circles under the eyes are some of the most common signs of premature aging.
We know how to deal with all this!
A correctly selected complex of cosmetic procedures is a guarantee that their result will satisfy you.
Esteva Clinic cosmetologists, guided by their many years of experience and a solid arsenal of cosmetic products and equipment, will return you attractiveness and youth!
Esteva Clinic specialists
Our special value is our specialists with many years of experience in cosmetology and dermatology.
Our specialists live in cosmetology, and are always ready to help in solving your problem.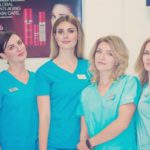 More about our specialists
Skin diagnostics
The effectiveness of treatment, first of all, depends on the formulation of an accurate diagnosis. Our specialists use dermatoscopic systems that allow quick and automatic analysis of the condition of the skin and hair.
Based on the result of digital dermatoscopy, it is possible to assess the condition of the skin, establish the causes of wilting or premature aging, and most importantly, prescribe individual treatment, give recommendations or select a set of professional skin care products that improve its condition and prevent aging.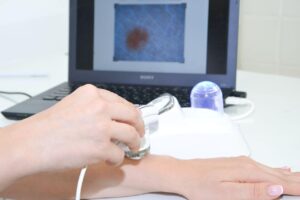 With the help of a digital dermatoscope you can:
Get a visual and qualitative assessment of the skin;
Identify changes in texture, and evaluate the work of the sebaceous glands;
See the size of the pores and their condition;
Assess the condition of wrinkles, the degree of hydration and elasticity;
Monitor the effectiveness of skin care products.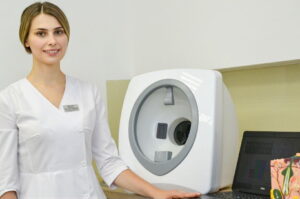 Using other diagnostic methods, cosmetologists can determine:
The degree of damage to the skin;
Pore size, number and condition;
Skin density, wrinkle structure
Latent pigmentation
Sensitivity (dryness, violation of the barrier properties of the skin, the manifestation of the vascular network);
The state and activity of the sebaceous glands and much more.
If you do not want to waste money and time on using cosmetics that do not suit you, risk the health of your face and hair, sign up for a consultation and undergo a digital dermatoscopy of your face and scalp.
Why should you contact Esteva Clinic?
✅ Cosmetologists with experience and flair
Our cosmetologists are constantly raising the level of their knowledge in Ukraine and abroad. Many specialists have more than 8 years of experience. As a result, you get not just the desired procedure, but a natural result and an integral attractive image.
✅ We have a convenient booking system
You can call us, or contact the open line, or write to instant messengers and social networks and be sure – we will answer and make an appointment for you
✅ Not only cosmetology
In addition to cosmetology, we have the latest and most effective dermatological methods. We not only make you more attractive, but also solve dermatological problems.
✅ We have a wide range of equipment
The Esteva Clinic has a very wide range of equipment for solving cosmetic and dermatological problems, for example SMAS lifting, fractional RF lifting, CO2 laser, IPL system, cryolipolysis and much more.
We are waiting for you at Esteva Clinic!
… and we know how to make you even more beautiful!
Консультации дерматолога, трихолога, косметолога
| Наименование консультации | Цена, грн |
| --- | --- |
| Консультация (до 30 минут) | 450 |
| Консультация (30 - 60 минут) | 600 |
| Повторная консультация (до 14 дней после первичной консультации до 20 минут) | 250 |
| Консультация специалиста в день проведения косметологических процедур (до 20 минут) | Бесплатно |