Removal of hemangiomas and angiomas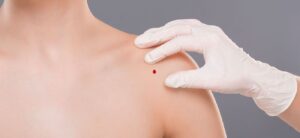 What is hemangioma / angioma?
Hemangioma is a benign tumor formation that has a vascular nature and can affect various parts of the body. It arises from vessels of different caliber (capillary, veins, arteries). Hemangioma is formed mainly in children under 1 year of age and usually, they become noticeable a few days or even months after birth.
Angioma is a benign tumor, accompanied by the proliferation of blood vessels (hemangioma) or lymphatic vessels (lymphangioma), which are located under the skin.
Usually, in adult patients, not hemangiomas are observed, but angiomas
Hemangiomas / angiomas appear as bright red patches and sometimes appear as nodules. In most cases, small single hemangiomas go away on their own without treatment. And for large formations, there is a special therapy that must be started on time.
What does an angioma look like?
Outwardly, angioma looks like a pink or red mole. It can form in both a child and an adult. Despite the fact that from the outside it looks like a nodule, it is classified as a benign tumor.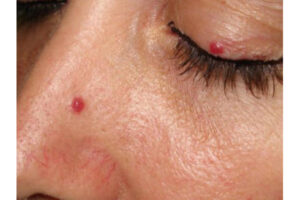 It can appear anywhere on the body and does not cause discomfort. In appearance, angiomas can be either smooth or protruding above the surface of the skin.
The causes of angiomas in adults are as follows:
✅ Smoking
✅ Alcohol abuse
✅ Chronic liver and kidney disease
✅ Cancer
✅ Not drinking enough fluids
✅ Deficiency of B vitamins
There are also "senile" angiomas, which develop by the same mechanism, but the cause is a physiological decrease in collagen in the body.
Diagnosis of skin angiomas
One of the main methods for diagnosing angioma is dermatoscopy. Thanks to her, the dermatologist at 10th magnification will be able to assess the neoplasms and draw further conclusions regarding the treatment.
When should you see a doctor?
📌If you are not satisfied with this cosmetic defect and want to get rid of it
📌Angioma begins to enlarge, change shape
📌Angioma causes discomfort such as pain and itching
A dermatologist is involved in the treatment of angiomas and this neoplasm should be removed only after a complete examination (consultation with a dermatologist followed by dermatoscopy).
Methods for the treatment of skin angiomas
Most often, the following are used to treat angiomas / hemangiomas:
✅radio wave method
✅ laser removal
✅ cryodestruction.
Radio wave method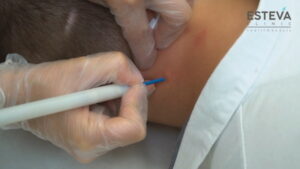 The radio wave method is a completely safe method of removing neoplasms, and it happens completely painlessly. High frequency radio waves are used, which are capable of vaporizing damaged tissue with micron precision. Rehabilitation takes place in a short period of time, without disrupting the patient's usual lifestyle.
Laser excision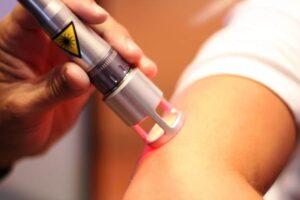 Removal with a laser is essentially similar to the radio wave method, with the only difference that in this case a laser beam is used. In this case, the surrounding tissue is not exposed to the laser.
CO2 laser is the optimal method for angiomas in difficult areas, namely:
near the nail plates (both on the hands and on the legs)
on the feet, including the plantar zone
Cryodestruction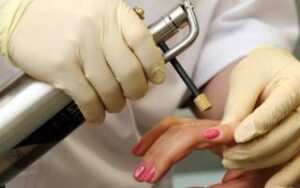 Cryodestruction – application of ultra-low temperature to remove skin neoplasms. Local method, freezing duration 10-30 seconds. It is used to treat acupuncture angiomas. Several formations can be removed in one procedure.
At Esteva Clinic, all these modern methods of treatment are available to you.
Contact us, we will solve your problem!
The cost of the procedure
Удаление ангиом
Название процедуры
Цена, грн
Дерматоскопия перед удалением (обязательна перед процедурой)
200
Удаление ангиомы 1шт

400
650

Категория 1 (от 10 до 20 новообразований)

1900
2300

Категория 2 (от 20 до 50 новообразований)

2900
3400

Категория 3 (от 50 до 100 новообразований)

3500
4600

Гистологическое исследование инцизионное 1шт
690
Гистологическое исследование эксцизионное 1шт
790
Обезболивание
200-300