Rjabko Lorina Mykolaivna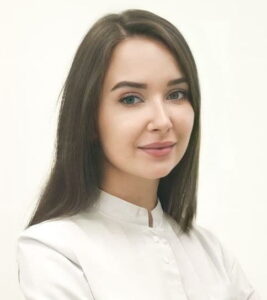 Dermatovenerologist
Graduated from Sumy State University in 2019, Faculty of General Medicine.
Specialization:
– Dermatology (diagnosis and treatment of acute and chronic diseases
skin and nails);
– Dermatoscopy and removal of benign skin neoplasms
(moles, papillomas, seborrheic keratomas, warts, contagious
molluscs, etc.) by radio wave method, cryodestruction method, with
using a CO2 laser;
– Trichology (diagnosis and treatment of skin diseases of the scalp
head);
– Cosmetology (cleansing, peeling, basic care, cosmetology
procedures, massage, home care selection);
– Injection cosmetology (mesotherapy, biorevitalization);
– Phototherapy for acne;
– Laser epilation;
– Hardware cosmetology (RF-lifting, vascular treatment).
"Good health is what makes you feel happy. The doctors target  is to prolong this feeling "