Face cleaning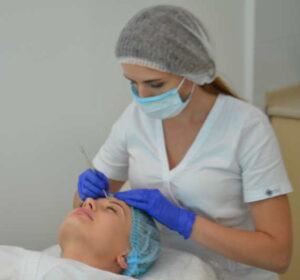 Facial cleansing is one of the most important stages of cosmetic care. Performing facial cleansing helps to maintain healthy and beautiful skin. In addition, facial cleansing is necessary to prepare for many other types of cosmetic procedures.
Facial cleansing is a basic care that aims to maintain proper skin function. Esteva Clinic experts recommend starting caring for your appearance with this procedure.
When performing a facial cleansing procedure, external pollution, dead cells, clogged sebaceous glands and makeup residues from the skin surface are eliminated. Cleansing the face not only maintains a healthy appearance of the skin, but also helps it perform important functions: respiratory, suction, and protective. In addition, facial cleansing has some rejuvenating effects.
Types of facial cleansing
Mechanical cleaning
It is carried out with a special tool – a Uno spoon. At the same time, in order for the procedure to pass without injuries and be deep enough, it is necessary to steam the skin with the help of a special gel (pore-expanding complex).
Ultrasonic cleaning
Cleans the skin and improves its color, brightens the face. It allows not only to cleanse the skin, but also to strengthen the resources of the skin, improve the structure of the dermis, and reduce the visible volume of pores on the surface of the skin during a course application.
Combined cleaning
This hygienic treatment for face, neck and décolleté skin combines two procedures in one: ultrasonic face cleansing and mechanical face cleansing.
Combined cleansing is capable of simultaneously gently and effectively removing deep and superficial skin impurities. Cleaning consists of several stages, the duration of which is determined by the category of skin contamination.
Cleaning indications:
oily and combination skin;
keratosis and age-related changes;
uneven and bumpy skin;
black dots;
inflammation of the skin;
unhealthy skin color.
Result after cleansing your face:
the skin is cleansed;
the relief of the face is leveled;
pores are narrowed;
the elasticity of the skin increases.
Contraindications to the procedure:
oncological diseases;
pregnancy
How is face cleansing done?
Stages of combined and ultrasonic face cleansing:
makeup remover
deep skin cleansing
Jacquet therapeutic facial massage
application of a pore-expanding complex
manual cleaning
ultrasonic cleaning
skin toning
applying a soothing or pore-reducing mask
applying a cream or serum according to skin type
The duration of the combined facial cleansing is 1.5-2 hours.
Let`s see how procedure face clean is perfomed in Esteva Clinic on our video
SKIN CARE RECOMMENDATIONS BEFORE AND AFTER PROCEDURE:
After cleaning for 1 week, avoid strong temperature exposure (baths, saunas, solariums, hot baths, etc.). Also, during this time, do not use scrubs.
COURSE OF PROCEDURES:
Combined cleaning refers to a one-time procedure. As a rule, it is carried out every 2-3 months, or on the recommendation of your personal beautician.
CLEANING EFFECT: You can evaluate the result obtained only after the redness disappears. It is after this period that the skin will become soft, refreshed, even and clean.
To perform the procedure at Esteva Clinic, we use products that are leaders among professional cosmetics: Klapp, Casmara, ZO Obagi, HolyLand and IS Clinical.
ZO Obagi is a skin cleansing and treatment that deeply cleanses the skin, narrows enlarged pores, relieves inflammation well, smoothes skin imperfections and eliminates oily sheen, after which the skin looks fresh and clean.
IS Clinical is a cleansing plus care that deeply cleanses pores and smoothes skin imperfections, acne spots, tightens pores, and relieves inflammation, after which the skin looks fresh and clean
Casmara – atraumatic cleansing plus care, well refreshes and soothes the skin
HolyLand is a cleansing with a peeling complex that thoroughly cleanses the skin and reduces inflammation
Our beautician will recommend a suitable cosmetic product for you.
It is ideal to combine facial cleansing with the following procedures: peels, microcurrents, phototherapy for acne (acne)
Why facial cleansing and professional treatments are best done at Esteva Clinic
✅ We work with professional care complexes from the USA, Germany, Israel and Spain. We use such world famous brands as Klapp, Casmara, ZO Obagi, HolyLand and IS Clinical
✅ All cleaning kits are sterile and open with you
✅ If there are inflammatory processes on the face, then Esteva Clinic has the opportunity to carry out laser treatment in combination with cleansing. Thanks to this, the inflammation will go away much faster.
✅ With the high quality of the procedure, we have an excellent price for the procedure
✅ Our specialists love their work and perform the procedure very carefully. Therefore, the procedure lasts up to two hours.
Sign up for a consultation with experienced specialists at Esteva Clinic and get radiant fresh skin!
The cost of the procedure
Чистка лица
Название процедуры
Цена, грн
Чистка лица (комбинированная, механическая, ультразвуковая) 1 зона (лицо / шея / декольте)

790
990

Чистка лица + пилинг 1 зона (лицо / шея / декольте)

1050
1300

Чистка спины (комбинированая / механическая)

1490
2000

Чистка лица комбинированая «Casmara» (атравматическая чистка +детокс) 1 зона (лицо / шея / декольте)

1390
1500

ABR чистка Holy land 1 зона (лицо / шея / декольте)

890
1500

Holy land (атравматичная чистка) 1 зона (лицо / шея / декольте)

890
1500

Чистка ZO Obagi Skin health 1 зона (лицо / декольте)

990
2000

Чистка "IS clinical"

1490
2000
Профессиональные уходы для лица
Название процедуры
Цена, грн
Профессиональный уход 1 зона (лицо / шея / декольте)

690
900

Уход на косметике «KLAPP» (монодоза)
1600
Уход на косметике «Casmara» (монодоза)
1600
Дополнительно альгинатная маска Casmara
400
Профессиональный уход ZO Skin health Obagi 1 зона (лицо / декольте)

990
2000

Профессиональный уход Casmara 1 зона (лицо / декольте)

1590
2000

Уход "Огонь и Лед"

1490
2000